All Chippers
|
AAWC4
|
RC6D35
|
Beever 812
|
Beever 1215
|
Beever 1415
|
Beever 1415 Track
|
Beever 1621
|
Beever 1821
|
RC1824
|
Beever 2021
|
Beever 2230
|
2230 Forestry
Morbark Beever 812 

8-inch capacity Wood Chipper
Perfect for rental yards, landscapers, golf courses and pruning crews, the high-capacity Beever 812 Wood Chipper is easy to transport and operate.
The 8-inch chipper is the only chipper in its class to combine both a wide infeed chute opening and 3.175 cm thick chipping disc for a greater chipping capacity than comparable models. The Beever 812 has a 251-pound (114 kgs) disc and shaft weight, which provides more inertia to power through material and continuously feed material.
With a single top feed wheel compression system and 32.3 ci hydraulic motor with spring-assisted down pressure, the Beever 812 generates more than 2,300 lb./ft. (3,423 kgs./m.) of material pulling force and approximately 1,000 lb./ft. (1,488 kgs./m.) of combined down pressure to easily feed a variety of materials.
Like all Morbark equipment, the 812 is a long-lasting, durable machine backed by a world-class parts and service support team.
More Info: Morbark Website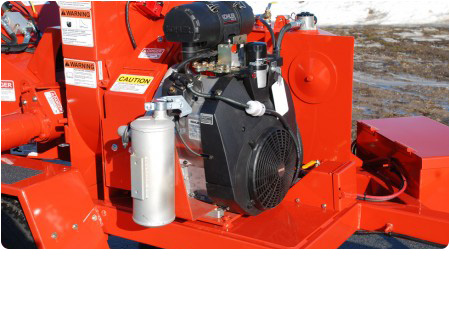 Belt Drive: 
Direct drive with belt power transfer eliminates clutch components and over center belt tensioning systems, reducing problem areas and easing maintenance burdens.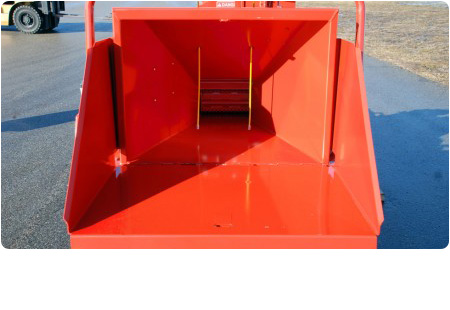 Infeed Chute:
Infeed chute with 96-square-inch throat opening allows for easy material feeding and reduced trim labor and folds to reduce transport and storage length.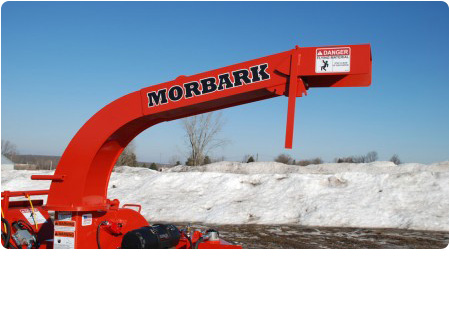 360° Swivel Discharge:
360° swivel discharge with adjustable chip deflector puts chips right where they're needed without removing the chipper from the tow vehicle.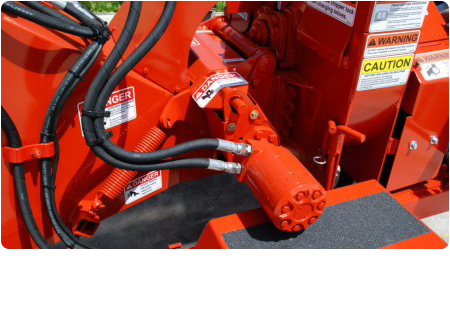 Feed System:
A top feed wheel compression system with spring-assisted down pressure easily breaks down a variety of materials.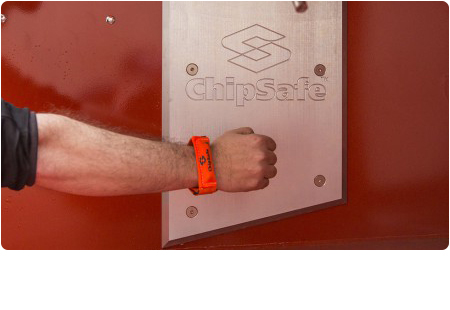 Be Safe. Get ChipSafe.
The ChipSafe® Operator Safety Shield — the latest safety innovation for Morbark Beever™ Brush Chippers. Learn more.
Direct drive with belt power transfer.
Automatic feed system.
Chipper disc with two 10 ½" (26.7cm) x 4″ (10.2cm) x 3/8″ (0.95cm) dual‑edged chipper knives and four full-length, bolt-on, chip throwing paddles.
Reversible feed works control bar and dual safety cables located within infeed chute.
Pinned chipper hood access with integrated hood safety device to disconnect the start system when the chipper hood is opened and allow ease of disc maintenance.
3″ (7.62cm) x 4″ (10.16cm) tubular steel fixed length drawbar and 3/8″ (0.95cm) thick safety chains with clasp hooks.
Morthane Paint System: A chemically cured, electrostatically applied urethane coating with high-gloss finish, built-in UV protection, chip and chemical resistance and corrosion protection.
Fuel tank sight gauge, drain plug and shut‑off valve.
Hydraulic tank shut-off valve, drain plug, clean-out cover and vented filter head assembly with dipstick to check oil level.
8D, 1400 CCA Battery.
Chipping Capacity: 8″ (20.32cm) 
Height: 7'4″ (223.5cm) 
Width: 5'3″ (160cm) 
Length (transport) : 12′ (365.8cm)
Length (operating): 13'10" (421.64cm) 
Gross weight (approximate): 2,500 lbs. (1,134kgs)
Suspension: 2,500 lb. (1,134kgs) Torflex 
Infeed opening: 33 ½" wide x 24 ½" high 
Throat opening: 12″ wide x 8″ high
Feed wheel: 11 ½" wide x 9″ diametre
Disc dimensions: 1 ¼" thick x 28″ diametre
Engine: Kubota
Horsepower: 44 HP
Fuel capacity (tank): 10 gallons (38 L)
Hydraulic oil capacity: 10 gallons (38 L)
Frame: 2″ x 4″ Tubular
Tyres: (2) 185/75Rx14 – 8-ply
Hitch: 2″ Ball
Variable speed flow control
2,500 lb. (1,134kgs) Torflex suspension axle with electric brake system, electric brake actuator and 185R14 tires with rims
Custom paint and logo packages
2 ½" lunet ring
Knife saver tool
Engine stop on infeed
Material pushing tool
Spanish and English safety decals
Contact Us
Melbourne
Global Machinery Sales
24-28 Williams Road, Dandenong South VIC. 3175 Australia
Ph:
1300 072 926
Fax: 03 9791 7676
sales@globalmachinerysales.com.au
Sydney
Global Machinery Sales
Unit 1/21 Penny Place, Arndell Park NSW. 2148 Australia
Ph:
1300 072 926
Stuart Samson: 0478 351 788
sales@globalmachinerysales.com.au
About us
Global Machinery Sales supplies the Arbor, Forestry, Access and Farming Industries with quality Wood Chippers, Stump Grinders, Forestry Mowers, Horizontal Grinders, Log Splitters, Spider Lifts, Mini Loaders and Recycling Equipment from leading brands such as Morbark, Rayco, CMC, Timberwolf and Angry Ant.

Mon-Fri: 8am – 5pm
Newsletter
Subscribe to our newsletter to stay up-to-date on all the latest industry news, our news and to receive exclusive offers.